Tannourine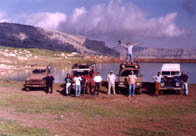 One of the most beautiful regions
in Lebanon

On the last sunday of may 2000

4 landies gathered around to go play around, eat, drink and have a nice time in the region of tannourine.
1 Series Land Rover (Tarek)
1 Defender 110 (John)
1 Disco (Nadim)
1 Defender 90 (Jeannot)

Mountains are very steep in this region of lebanon
We notice that there are still some snow left for us to cool our Beers.
Paintings...
Here we really have to stick to the road cause the lands around still contain mines !
(leftover from the war)
.The Union thanks Jeannot, because of all the nice pictures we see here.
and finally we enjoyed the beers we cooled down in the snow.
On the way back, this herd of sheep refused to clear the way, so we had to move around to pass....
Tarek even wanted to convice the sheperd to sell us a lamb !